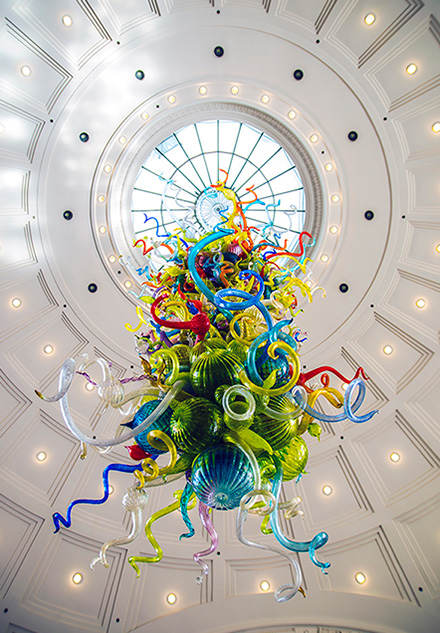 Union Station Rotunda, Tacoma, WA. Artwork by Dale Chihuly.
"I'd recommend John Maier as an attorney for anyone dealing with divorce, but especially his representation of those like me, who face single parenting a disabled child as a result of that divorce. John's ability to quickly grasp the special situation my daughter's severe disabilities placed me in helped tremendously. His attention to detail helped get more alimony and child support than I thought any lawyer could secure for us. I will use John's services again in attaining future support for my special needs child because I'm confident in John's ability to help make this situation more fair for us."
– Cheryl M.
"John is a very good attorney. He fights for your rights and is fair and honest with you. John works hard on your case and works hard to make sure that the resolution is fair and honest for both parties."
– Troy
"Please contact us. Our son needs a good lawyer with integrity … you seem to be such a man." (card handed to John Maier by a stranger after she observed him arguing a motion in court)
– Renae H.
"I felt Mr. Maier immediately treated me like an individual. His years of seasoned experience were directed to my every need. He took hold of my case and laid out a "customized" plan of action for myself and the children, securing our home for us, the primary home of the children, myself as custodian, and security of mortgage and bills to be paid by my husband, allowing immediate stability for myself and the children through the courts. Mr. Maier gathered facts, obtained financial details, and worked with me on attorney's fees, allowing me a substantial cut in his retainer fee and securing attorney's fees at the first court session. This was huge when I had the stress of going pay check to pay check. Mr. Maier's skillful handling of court sessions obtained for us the mortgage being paid and enough child support to cover bills. I was able to finally breathe. Through a very high anxiety time, stress was minimized by Mr. Maier. I was able to trust him completely on handling our affairs. I felt strong advice, although not told what to do. Mr. Maier gave me options and the confidence to gain back control. I strongly and whole-heartedly recommend Mr. Maier as a family divorce attorney. I placed myself, my children, my world, in his hands, and he brought fair and just results for us. Mr. Maier has a high caliber of professionalism. His skills and legal instincts, combined with his years of experience obtained for us exactly what was needed. Mr. Maier has maturity of character, and high respect in the Tacoma Courts. His compass of good morals shown through in the courts. Mr. Maier's personal conviction, and dedication to family values, earned him respect in the court room. Consequently he obtained what was justly deserved. Mr. Maier never ceased to listen and review all details thoroughly. He looked at all information factually and objectively, and considered all alternatives before making very accurate decisions and presentation to the judge. I very much thank Mr. Maier."
– Alison G.
"I worked for Mr. Maier for 14 years as his legal assistant and office manager. He was a wonderful employer – patient, helpful, flexible, and compassionate. This is who he is as a person. It's important that you know this because family law is different than any other area of law… it is so personal… it is about your family… it is about your life. Your life is in turmoil or you wouldn't be contacting an attorney. I know that during this process it's vital that you feel heard and understood. That is important, but frankly, the most important elements are that you are represented by someone who knows the law, someone who has the ability to make arguments for you according to the law, someone who knows the "system," someone who is well respected in the legal community, and someone who has the experience and wisdom to guide you through a process where there really are no "winners." Mr. Maier is logical, realistic, and analytical. He will keep you focused on how the law applies to your set of circumstances, and he will fight for the best possible outcome for you. This is everything you need if you are involved in the difficult process of divorce, child custody, paternity, child support, or legal separation."
– Amy T.